Raising Horizons: 200 years of Trowelblazing Women
October 27, 2016
I want to draw your attention to this:
Raising Horizons is a collaboration between Leonora Saunders and TrowelBlazers, supported by Prospect Union.
PHOTOGRAPHER ·pho·to·gra·pher·/fəˈtɒɡrəfə/ n. A person who takes photographs, especially one who practices photography professionally.
Leonora's work is focused on exploring issues surrounding diversity and wider cultural ideas on gender and ability. Specializing in portraiture, Leonora's work has featured in The Guardian, The Sunday Times, and The Evening Standard as well as The Royal Photographic Society Magazine and other photographic journals.
TROWELBLAZER ·trow·el·blaz·er· /traʊəl'bleɪzə/ n. A woman in archaeology, palaeontology or geology. Been doing it longer than you think.
TrowelBlazers are four early career researchers whose mission is resetting imaginations by sharing the stories of pioneering women in the geo-sciences, past and present. Our website hosts over 120 biographies, and we co-designed Fossil Hunter Lottie, a palaeontological action figure.
Working in partnership for the last 12 months, we've developed a photographic exhibition which will bring two centuries of hidden trowel-blazing history to life. Now with your help it's ready to become a reality.
Raising Horizons consists of two parts:
14 contemporary women working in archaeology, geology and palaeontology photographed as their historic counterpart.
The portraits will show the real diversity of women working today, at the same time drawing striking visual connections to their forebears. We've got 14 truly inspiring contemporary trowelblazers– ranging from field leaders, to those at early career stages– ready to be photographed at the end of October. You can read about our women here. But we are going deeper too:
Personal interviews with the women will form part of the exhibition, and act as the basis of a new oral history archive.
We want to preserve the career experiences of today's pioneers and ensure they aren't forgotten, like so with many of the women who came before them.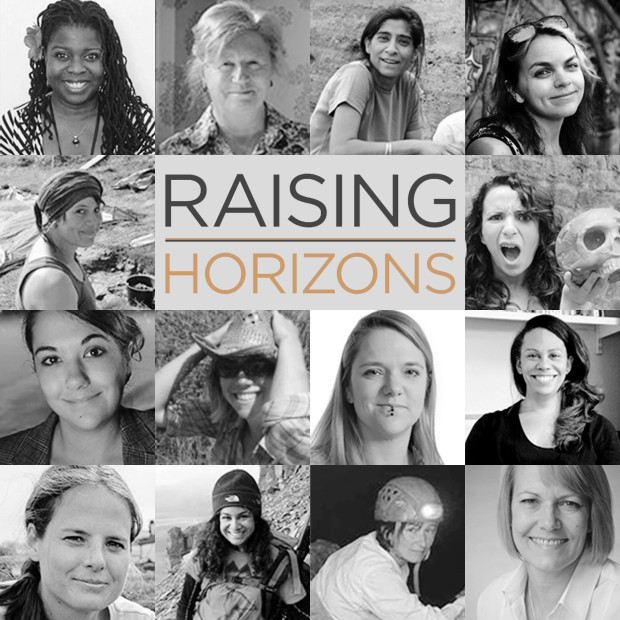 Raising Horizons is about revealing the real face of geo-science past and present, sharing its hidden heritage, and promoting 21st century diversity.
As well as celebrating individuals, Raising Horizons  also seeks to show that women in science aren't isolated or alone; through mentoring, training and collaborating, they have always created networks of their own,
Why this matters
Role models are not the only answer to diversity issues in science, but they matter. If we want to fix this, we need to think about the face we present to the rest of the world.
There are still major obstacles faced by minorities including women in geo-science: from pervasive sexist attitudes about who can do science that influence girls' interest, to biases at career level that affect women's success, to increasing revelations about the extent of sexual harassment.
Even where growing numbers of students are female, the leaky pipeline hasn't been fixed; for example 80% of archaeology professors are male, and we're still losing talented individuals as they climb the career ladder.
And it's about more than gender: the ethnic homogeneity in geo-science is a problem easily an order of magnitude bigger. We're still stuck in a web of outdated attitudes, including plain old sexism and racism; bad for people and bad for science.
Which begs the question – what are we going to do about it?
Raising Horizons is one way that –together– we can act to re-set imaginations on who geo-scientists are, and have always been, as well as promoting positive action that can help us today:
Backing Raising Horizons will create a valuable resource showcasing diversity in geo-science past and present.

Curated at exhibition venues around the UK and online, the project can reach broad audiences.

Producing interviews that will be the foundation of a future oral history archive.

By spotlighting the power of connections and networks, we can put a focus on forming new frameworks of support via future TrowelBlazers mentoring and training programmes and bursaries.
What We Need & What You Get
To make Raising Horizons a reality, we need £10,000:
This will pay for our core production costs:


costume hire, photographic equipment and lighting rental, photoshoot crew (dresser, hair & makeup), printing, travel expenses for our trowelblazers, filming interviews and online content.



As well as the physical exhibition, it will exist digitally on a website together with the full interviews, so we can reach a larger audience. What's more, we want people to be able to submit their own stories too, so we can continue building up a future resource.
We're involving the next generation in making Raising Horizons too: students from a south London school will be taking part in the photoshoots, and we want to enable oral history work experience too.
As a thank you for funding us, we have some fantastic perks*, like sneak peeks at the photoshoots and portraits; your name in the catalogue, launch party tickets, limited edition prints, and pre-launch tour of the exhibition with Leonora.
If we don't meet the funding goal, the money raised will still be put towards Raising Horizons, but we will need to get other grants, and launch in 2018.
Raising Horizons 2.0: beyond our target
If we meet our target, we can show the exhibition in London, create the website and hold events.
But Raising Horizons can be so much more; if we double our target it can go on tour. We want to bring this amazing exhibition to multiple exciting venues across England, Wales and Scotland over 12 months.
We've already had support from fantastic organisations (see credits), and we've applied for some grants, but your help is what will make the real difference.
If we can DOUBLE our target and raise £20,000 we can take Raising Horizons on tour.
Other Ways You Can Help
Our wonderful community is what makes TrowelBlazers work, and we know not everyone can back us financially. We'd still love your help though! You can make a difference by:
Sharing the campaign with friends and family (use the share buttons at the top of this page)

Telling people about the project and what it means to you

Checking out TrowelBlazers.com and finding out more about these amazing women
Supporters
We've proud to have the following organisations as sponsors and supporters:
Museum of London Archaeology, Historic England, Geologists' Association, Society of Antiquaries, Geological Society, Palaeontological Association, Prehistoric Society, Past Horizons, Council for British Archaeology, Chartered Institute for Archaeologists, Arklu, and Harris Academy Bermondsey.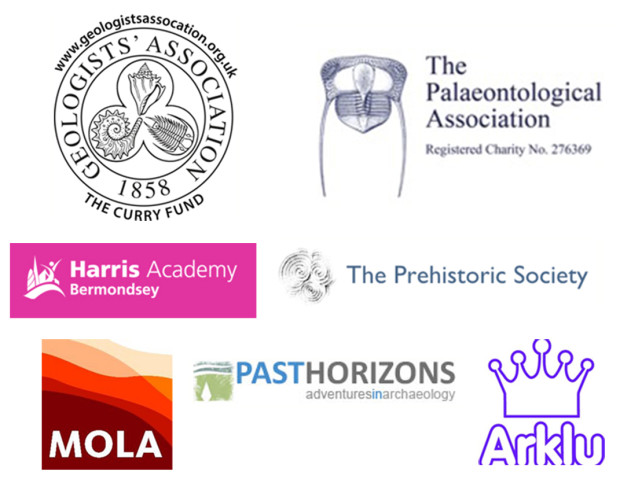 Special thanks for help with the crowdfunding video:
Nicky Thompson for Creative Direction, Chris Church (Wire Frame Media UK), Petrie Museum of Egyptology, Grant Museum of Zoology, Natural History Museum, Society of Antiquaries of London.
Perk conditions
All Perks 'in person' e.g. launch party tickets do not include expenses/costs e.g. travel to events.
Perks will take place according to our schedules and availability, and are not exchangeable. We will try to keep 'in person' perks such as gallery tours equivalent to those listed, but some changes may occur.
Material perks are also subject to the overall funding success of the project- if we are unable to meet our goal, some perks such as exhibition catalogues might not be available immediately, or at all. We reserve the right to substitute other rewards if this is the case.
DONATIONS ARE MADE BY YOU AND ACCEPTED BY US IN GOOD FAITH BUT NO LIABILITY IS ACCEPTED.